Did you know that signage can be your best marketing tool? Retail signage is perfect because it can be seen at all times, so whether you're open or closed, you're bound to increase sales without even knowing. Retail signage can count as shop fascias, sale posters and window graphics. Use our branding guide consistently throughout your signage to help boost footfall and convert customers.
Types of Retail Signages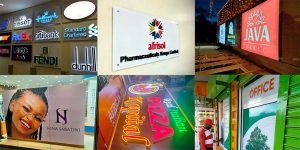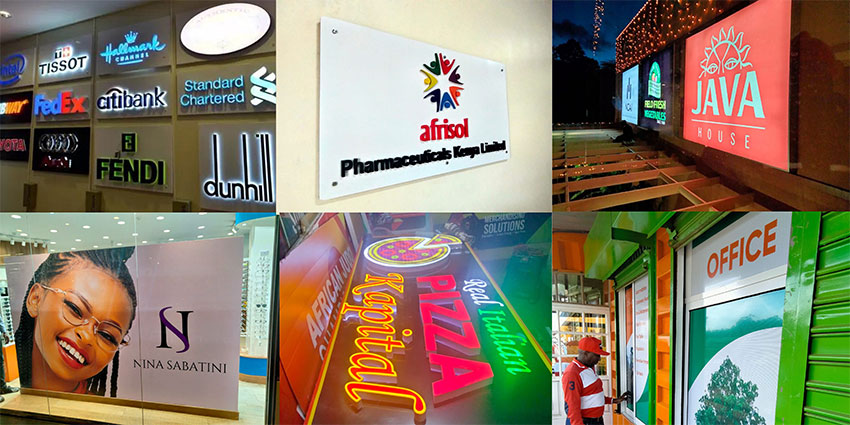 There are many types of signages but the mostly used by businesses are 3D & 2D Signs, Reception Lobby Sign, Lightbox Sign (Backlit), Illuminated Signs and Window/Door Stickers Sign. With the belowtips, get to choose the signage that best fits your business/company.
1. Big fonts
Unfortunately, not everyone has a perfect vision, so having large signage can be hugely beneficial. Older people can especially struggle reading small signage, so you don't want to alienate any potential customers. Large fonts are best used on signage such as sale posters and banners as you want to advertise offers to as many people as possible. Keep in mind the type of font you use, too. Although handwritten fonts look good, they aren't always practical. Use bold and simple fonts so that they are easy to read for everyone.
2. Use windows
Short on space? Use windows to your advantage! You can still create compelling window displays, but you can use window graphics to help amplify sales and footfall. Gone are the days when you stick a piece of paper in your window to convey your message- eye-catching window graphics are in. The great thing about window graphics is that they can be changed often, which is why retail stores love them so much. Seasons are an ideal way to attract more customers to your store; if people are wanting to buy Christmas decorations then they're more likely to go into the shop with the Christmas window graphics. They can be warm, welcoming and memorable.
3. Illuminated
Illuminated signs are a must if you want your store to stand out. The great thing about illuminated signs is that they can be seen from distances, which automatically tempts people to visit your store. LED signage is perfect for retail spaces as they are energy and cost-efficient. Illuminated signs are visible in the dark too which can be the perfect time to gain more customers. For example, people waiting in traffic on a dark, winter night will turn their heads at a bright, illuminated sign as opposed to a standard printed sign. Illuminated signage can be seen during the day but it can be especially useful during autumn and winter.
4. Colour
Colours can play a vital role in a successful sign. It completely depends on your business when it comes to choosing appropriate colours. Green is a colour often associated with wealth or vegetation, whereas blue has connotations of tranquility and trust. Thinking about colour psychology can be ideal for your shop fascia as you want to build a consistent brand. However, in terms of sale signage, it is best to use contrasting colours such as black and white to grab the attention of customers.
5. Make It Personal
Using personal pronouns such as 'you' is a great way to convert customers. Straight away the customer is included in your business and they may feel more inclined to visit your store. For example, if you're holding a competition, a phrase such as 'YOU could be our next winner' written in large letters is easily going to increase footfall as the customer feels they have a chance of winning. Try coming up with a phrase you'd like to put on some signage and put 'you' and 'your'.
Use all of the tips above to flawlessly achieve retail signage that conveys a message and converts customers. If you'd like to work with us, check out some of the retail signage we've created and get in touch!